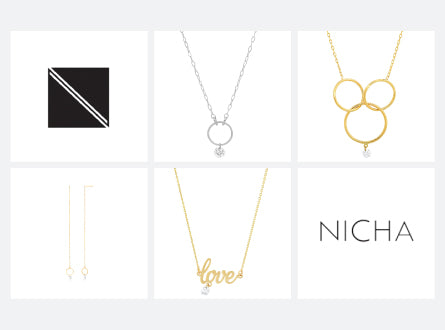 Introducing Our New Arrivals
With Spring in full bloom, our latest collection has arrived featuring bold new designs that continue to define the subtle elegance that you've come to expect from Nicha.
Offering more variety than ever, our catalogue of necklaces and earrings has expanded to provide either the perfect gift or a hard-earned treat for yourself. Here are some unique highlights that are sure to awaken your curiosity. 
Both our Majestic Love and Unspoken Love necklaces spell love with a single diamond, and whether you are giving love as a gift or loving yourself, they each serve as the perfect reminder of the ultimate personal value. 
The Bright Harmony necklace pushes subtle to the limit with five diamonds and multiple layers of gold chain that holds one's attention the moment they see it. It works great with tops that have a low neckline and allow it to be noticeable. 
Our Deep Sea Bounty earrings bring the pearl into the modern age with a special gold clasp that highlights the pearl as even more unique and magical. 
Like a lightbulb going off, our Bright Idea necklace features a unique design that places a single  diamond in the middle of a ring that both draws attention to the stone, but maintains a minimalistic aura. This is a great necklace for those who wish to break the norm and create their own trends. 
Like a single star breaking through on a dark and cloudy night, our Celestial Dream necklace features a single diamond precisely highlighted by a long, golden band. Hanging high, this necklace is visible with most tops.
The rest of our collection features just as many distinct pieces as there are particular occasions to wear them. With our diamonds, it's all about the presentation. When you or a loved one wear our collection, you'll have that subtle touch that one needs to make every moment special.