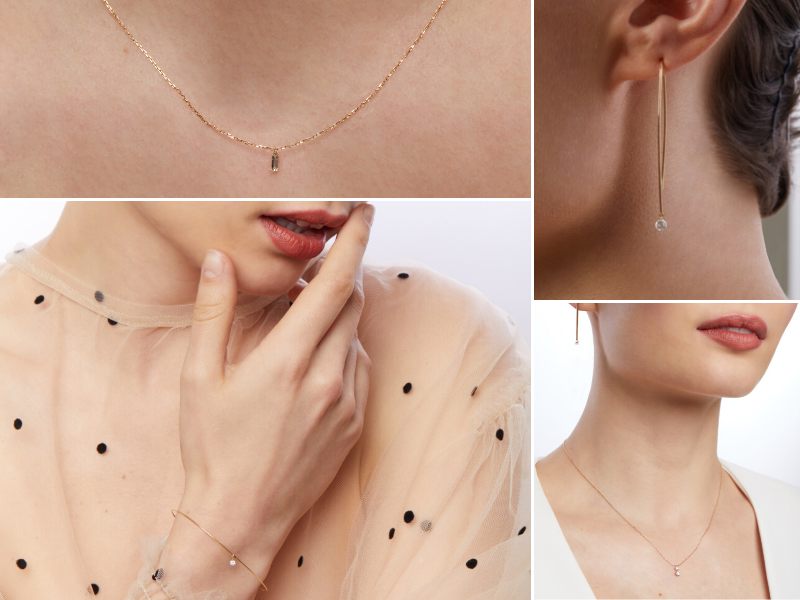 Hello! This is Tai, the owner of Nicha Jewelry. There's no better feeling than when a loved one opens a beautifully wrapped package and her eyes glow brighter than the diamond jewelry within. It can only be replicated by the feeling of treating yourself to a hard-earned gift that you have been wanting. Regardless of the occasion and reason, here are some of my favorite pieces that I'm sure will please.
If your taste tends to be a little more elaborate and edgy, then you too will also fall for our Raise the Bar earrings which has an 18k gold bar with a diamond at the end. It takes stud earrings to a new level!
A diamond necklace makes a gift a loved one will treasure always. The Diamond Road necklace looks great with tops that have a long slit or low neckline to show it off. You don't see rectangular cut diamonds as often as other shapes, so this one is special to me.
If you have the diamond "basics" down and want something a bit more original or different, then the Radiant Soul necklace should be on your radar. It has an 18k gold bar with a diamond hanging off of it. It is one of our more abstract pieces and I love how different it is. It's the same style as our Raise the Bar earring so clearly, this design is something I gravitate to.
The Holy Ghost bracelet is also one of my favorites. I love a cross on jewelry, but don't like it when it takes over the piece. Sweet and simple, this bracelet features a cross in an elegant and modern way. It's also great for stacking.
No matter what sort of woman you're shopping for, or even for yourself, fine jewelry is definitely one of the safest purchases you can make. Long-lasting and great quality pieces are always a good bet. I guarantee whatever piece from Nicha you choose, you will have your new favorite piece of jewelry.