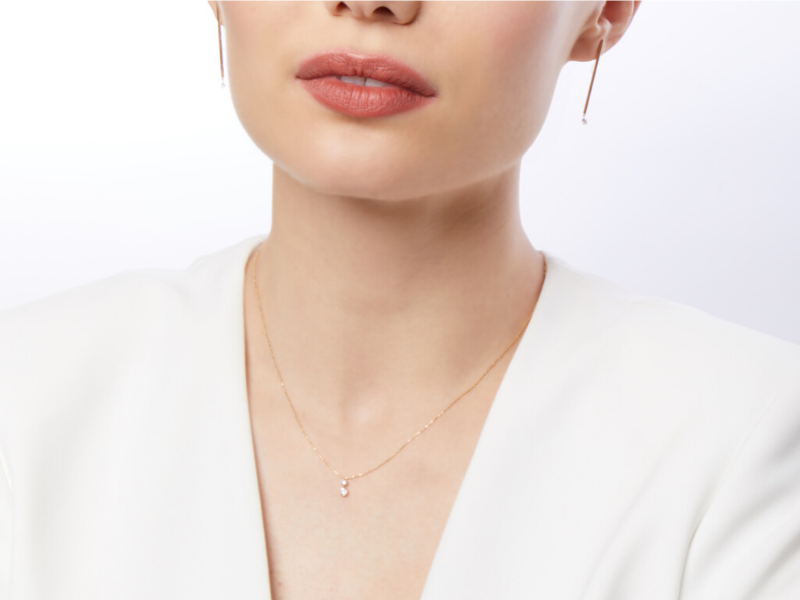 Style Jewelry for the Holidays
The holidays are right around the corner and finding the right jewelry is imperative. With all the sparkle and shine of your outfit, you are going to need jewelry that accentuates your look without taking over. So many things about diamonds are perfect for the holidays. The twinkle they bring to a finger, wrist, and neckline is unmatched. Here are some ways to wear Nicha jewelry during the holiday season.
Wearing a dress or blouse that shows off your neckline?  Pair this with a stunning large diamond necklace and you will be the talk of the party. 
Just like a simple diamond pendant, diamond drop earrings are something every woman should have in her jewelry wardrobe. They create a flow to your entire look. If you like this look but want more diamonds then our Feminine Grace earring is a perfect choice.
Diamonds and hoops are not often seen together but this style is both elegant and playful. A diamond hoop earring is a great choice if you plan on wearing your hair up.
If your holiday outfit doesn't have a lot of colors and you would like to add some, go for our Over the Rainbow drop earrings featuring two-colored round diamonds hung above a pear cut diamond. 
Pearls are the epitome of elegance and it pairs perfectly with diamonds. Our Mother of Pearl earrings is short and sweet with the pearl taking front center. A pearl necklace is also a great choice to bring attention to your decolletage. 
The movement of hands is an easy way to show off your favorite jewelry. Our Morning Dew features intersecting hoops for a bracelet that moves with you. Looking for a stiffer option that is perfect for layering? Look no further than our Endless Destiny bracelet which features 18k gold with a diamond that will catch everyone's eye.
With so many styles and options to choose from, you are bound to find the best addition to your holiday outfit with Nicha.